Essential Oil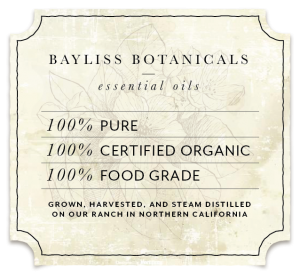 Bayliss Botanicals' essential oils are 100% pure, 100% certified organic, and 100% food grade. Grown, harvested, and steam distilled on our ranch in Northern California.
Perfect for aromatherapy and for creating personal or professional personal care products.  Essential oils are powerful plant essences that contain an array aromatic qualities. They are composed of the hydrophobic plant compounds that naturally separate from the aqueous portions of a steam distillation.  To ensure safety and proper use, internal use of essential oils should only be done under the supervision of a physician, aromatherapist or herbalist. Read More
---
Basil (ct. Linalool) Essential Oil

Quick View

Basil (ct. Linalool) Essential Oil

From: $5.00

Basil Essential Oil is an excellent anti-inflammatory. It is good for reviving both skin and scalp.  Great skin tonic to fight acne and varicose veins. It supports concentration, memory, and mood. The linalool chemotype is gentler than other types of Basil, such as the Methyl chavicol chemotype.